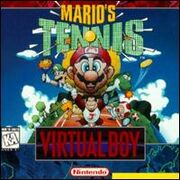 Mario's Tennis is a game for Nintendo's Virtual Boy video game console. Also known by its working title Mario's Dream Tennis, it was the console's pack-in game in North America. The game features seven famous characters from the Mario series. Although a two-player function was announced, it was not implemented since the cable required to link two Virtual Boy units was never released. Due to the Virtual Boy's poor sales in North America, Mario's Tennis did not become as popular as the other games in the Mario Tennis Series.
Game Description
Edit
Mario and his friends have gotten together for a game of tennis! This time, you see the action from down ON the court! Bounce the ball past your opponent and smash the ball over the net to victory as you play against seven of your favorite Super Mario characters in various locales! Play in singles or let the computer be your teammate in doubles! Play a casual set of tennis or go really competitive in Tournament mode!
Characters
Edit
Mario
Luigi
Princess Toadstool
Yoshi
Toad
Koopa Troopa
Donkey Kong Jr.
Ad blocker interference detected!
Wikia is a free-to-use site that makes money from advertising. We have a modified experience for viewers using ad blockers

Wikia is not accessible if you've made further modifications. Remove the custom ad blocker rule(s) and the page will load as expected.