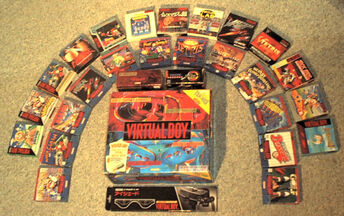 The games released and unreleased for the Virtual Boy.
Games Released
Edit
3-D Tetris
Galactic Pinball
Golf
Insmouse No Yakata
Jack Bros.
Nester's Funky Bowling
Panic Bomber
SD Gundam Dimension
Space Invaders Virtual Collection
Space Squash
Teleroboxer
V-Tetris
Virtual Bowling
Virtual Boy Wario Land
Virtual Fishing
Virtual Lab
Virtual League Baseball
Waterworld
Unreleased Games
Edit
3D Tank
Bound High!
Donkey Kong Country 2
Doraemon
Faceball
Godzilla VS the Destroyahs
GoldenEye
Interceptor
J-League 3D Stadium
Mansion of Insmouse
Mighty Morphin Power Rangers
Night Landing
Out of the Deathmount
Polygo Block
Proteus Zone
Sandy's Point
Shin Nihon Pro Wrestling
Signal Tatto
Sora Tobu Henry
Star Seed
Strange Animal School
Sundays Point
Virtual Boy Mario Land
Virtual Block
Virtual Bomberman
Virtual Dodgeball
Virtual Double Yakuman
Virtual Fishing
Virtual Gunman
Virtual Jockey
Virtual League Baseball 2
Wangan Sensen Red City
Worms
Zero Racers
Ad blocker interference detected!
Wikia is a free-to-use site that makes money from advertising. We have a modified experience for viewers using ad blockers

Wikia is not accessible if you've made further modifications. Remove the custom ad blocker rule(s) and the page will load as expected.